Best Internet Providers for Your Home in 2023
Updated December 23, 2022 Connectivity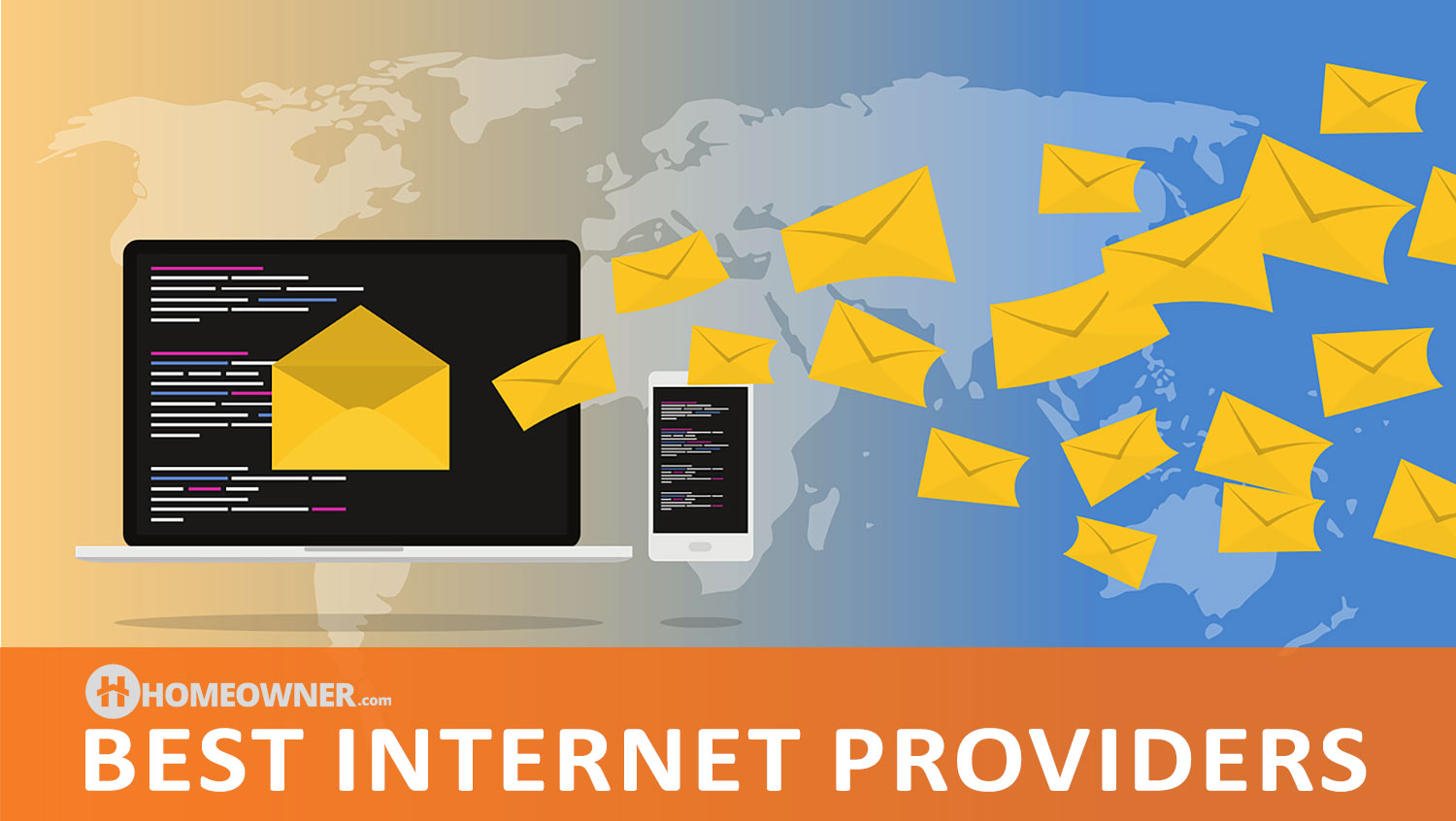 Do you think you could live without the internet? While it is possible, it's also extremely difficult. That's because most of the things you need for daily living are internet-based – everything from banking to communication to entertainment. Since you need internet services at home, you'll need to pick an internet service provider…but how exactly do you go about choosing that?
Best Internet Providers in 2023
Xfinity
Charter / Spectrum
T-Mobile Home Internet
AT&T
Cox
Starlink
CenturyLink
Verizon Home Internet (Fios, 5G, LTE)
Ziply Fiber
Rise Broadband
There are over 307 million internet users in the United States. American consumers use the internet for a variety of needs. They may shop online through stores like Amazon, Walmart, or any of the 2.5 million individual online retailers based in the U.S. alone.
Internet users get online or open up their phones to check their bank accounts and conduct routine banking services like sending and transferring money or depositing checks – which can be done now with a smartphone. Internet users stream entertainment from services like Netflix, which has over 220 million subscribers, or browse for fun or instructional videos on YouTube, which has 2 billion monthly active users. And internet users also use email for communicating with friends, family members, employers, and service providers like doctors.
Many public places around town have the internet. Restaurants, stores, and coffee shops all have wifi networks that provide patrons with internet access for their phone, tablet, or laptop while they sip on a coffee or eat lunch.
Home Internet
While public hotspots are great for internet on the go, what about internet for the home?
Picking the right internet service provider (ISP) depends on several factors. One will be the price of the services they provide, whether that's a basic internet package or a larger package with other services like cable and home phone services.
Another factor is where you live, and this actually might be the biggest factor. Internet service providers have different zones of coverage. Even the largest providers don't cover every single area in the country. If you're renting, your apartment complex may have a contract with a particular broadband provider or be connected to a particular network. Either way, the ISP will typically provide you with a router that can broadcast wired and wireless internet service throughout your home. You can buy your own router, but many times they will provide one for rental at a very nominal price like $5 or $10 per month.
Best Internet Providers for Your Home
Xfinity
Comcast Xfinity has an average customer rating of 4.2 stars out of 5 according to U.S. News consumer reporting. The company has cable and fiber internet plans that start at around $45 in most areas, and users will enjoy a higher range of download speeds ranging from 50 to 2,000 Mbps (Megabytes per second). This is more than sufficient for most consumers to enjoy the best video streaming services, watching movies and TV shows in 4K resolution. Xfinity is rated by many publications to provide the best cable service and the best internet service for video streaming.
T-Mobile Home Internet
T-Mobile is one of the largest cell phone service providers in the country, and they also offer home internet connectivity. Their particular iteration of internet service is slightly different since it uses the same wireless 5G network as smartphones. T-Mobile started rolling out this program in 2021, and so far 40 million homes are enrolled. Keep in mind that 5G is still rolling out around the country and is not available in some locations. The service starts at around $50 per month with unlimited data.
AT&T
AT&T is an established name in the telecom industry. Their internet service is highly rated, with a 4.3 star rating out of 5 stars via U.S. News. The fiber optic network provides download speeds of up to 100 Mbps, although they also have DSL options available for homes outside their fiber network.
Plans start at $55 per month and some bundles include DirectTV. Unlike some other service providers, AT&T no longer requires you to be locked into a contract. This can be helpful if you're in a transient space or renting. California, Nevada, much of the Southeast, and some of the Midwestern Great Lakes states are all included in their coverage area.
Spectrum / Charter
Spectrum, formerly Charter Communications, has a U.S. News rating of 3.9 stars. While the star power of this score is slightly lower than competitors, Spectrum is lauded by publications for its bundle packages with phone and TV services. Users can also enjoy unlimited data with plans starting at $49.99. Spectrum services can be acquired throughout most of the continental United States (excluding Alaska and Hawaii), although select Midwestern states are not covered.
Download speeds range from 10 Mbps (which is slow) to 940 Mbps (which is excellent). In addition to Spectrum Internet for consumers, there is also Spectrum Business, which might be beneficial if you're running a business from home and need a stronger connection with a better upload speed and download speed.
Cox
Cox has a rating of 4 stars via U.S. News and has both fiber and cable networks with download speeds ranging from 25 Mbps to 940 Mbps. A wi-fi router is included in the service, as are hotspots outside of your home. Plans range from a very low $29.99 up to $99.99 for the fastest internet plan known as the Gigablast. Cox also offers bundled services that can include home security devices, making this ISP option very affordable and versatile in terms of home connectivity.
Starlink
Starlink is satellite internet, which is quite different from your typical internet service. As its name implies, satellite internet comes from satellites in outer space. The satellites belong to the SpaceX program, which is the brainchild of serial entrepreneur Elon Musk.
Starlink is expensive, starting at around $100 per month. But for people living in very rural areas that are not connected to a network managed by an ISP, satellite internet may be the only viable option. Internet users exploring this option need to know that some upfront costs can be associated with purchasing equipment to receive services, and these costs can climb up to $599. For all these reasons, while the potential for satellite internet providing global coverage is intriguing, most consumers are not going to find Starlink worth pursuing unless they live in a remote rural area or want internet at a cabin in the mountains.
CenturyLink
CenturyLink has a 3.6 star rating according to U.S. News, and provides services across 36 states to 19 million users. Two of the biggest benefits to using CenturyLink are that there are no contractual obligations, and they have a special price-for-life arrangement whereby your monthly bill will remain the same as long as you don't cancel the service. This can be particularly advantageous during periods of inflation or even just over time as other ISPs continually raise their prices. Currently, plans start at $50 for DSL plans with 100 Mbps download speeds, and $65 for fiber internet plans with a much better download speed of 940 Mbps.
Verizon Home Internet (Fios, 5G, LTE)
Verizon has a 4.3 star rating according to U.S. News and is especially praised for its Gigabit Fiber Plan. Users who need fast download and upload speed will enjoy using Verizon, so if your internet usage is very much work-related or you like to game or send pictures and videos to family and friends, this could be the package for you. Pricing starts at a very reasonable $39.99 per month, but if you are part of the Affordable Connectivity Program your pricing will be even lower (in fact, free in most places). As the plans increase in download speeds, the pricing increases, with the highest Gigabit connection costing $90 per month. Plans do not have a data cap and require no contract, making them even more appealing. Verizon has a number of different network options including their patented Verizon Fios fiber optic network, 5G home internet, and LTE options.
Ziply Fiber
If you reside in the Pacific Northwest, Ziply Fiber may be a good option for your home internet. You can get fiber broadband for just $20 per month, and for free if you are covered by any of the free internet eligibility programs funded by the FCC. This basic plan is for download and upload speeds of 50 Mbps, so if you want more speed, you'll need to pay more – $40 for 200 Mbps (uploading and downloading) and $60 for their Gigabyte plan, which is 25 times faster than cable and their most popular plan. Ziply claims to have the fastest fiber network in the PacNorthwest.
Rise Broadband
Rise Broadband is dedicated to serving rural and underserved areas of the country, although they do cover some suburban areas. It's a little bit like satellite internet, but instead of the wireless signal coming from outer space, it comes from nearby tall towers and is beamed right into your home modem or fixed wireless device.
The service is not as fast as a fiber or cable network but does provide basic internet usage. Expect speeds of around 25 Mbps for $25, 100 Mbps for $60, and even 1,000 Mbps for $100.
Best Internet Providers for Homeowners
Several factors can determine the best internet service provider for your home. You may start by looking at price and speed options, but there are other factors to consider like customer service. If you have high-speed internet but your customer satisfaction is low, you might consider looking for a different internet provider. Alternatively, maybe you don't care if your broadband provider has the best customer service, as long as the internet speed is sufficient for the working, gaming, or life tasks for which you need internet service.
Your options may be limited to what's available in your neighborhood. For some consumers, that will just be a DSL internet connection. For others, that will be cable internet bundled with their cable TV. Whatever the case may be and no matter your zip code, internet providers are working hard in conjunction with federal and state governments to bring everyone up to speed with broadband internet. You can find a range of choices from T Mobile Home Internet to Xfinity Mobile to a Fios Gigabit Connection. Remember to apply for the Affordable Connectivity Program to see if you can qualify for a discount on your internet service monthly bill.
Related Content