Best Doorbell Camera in 2023
Updated December 23, 2022 Home Security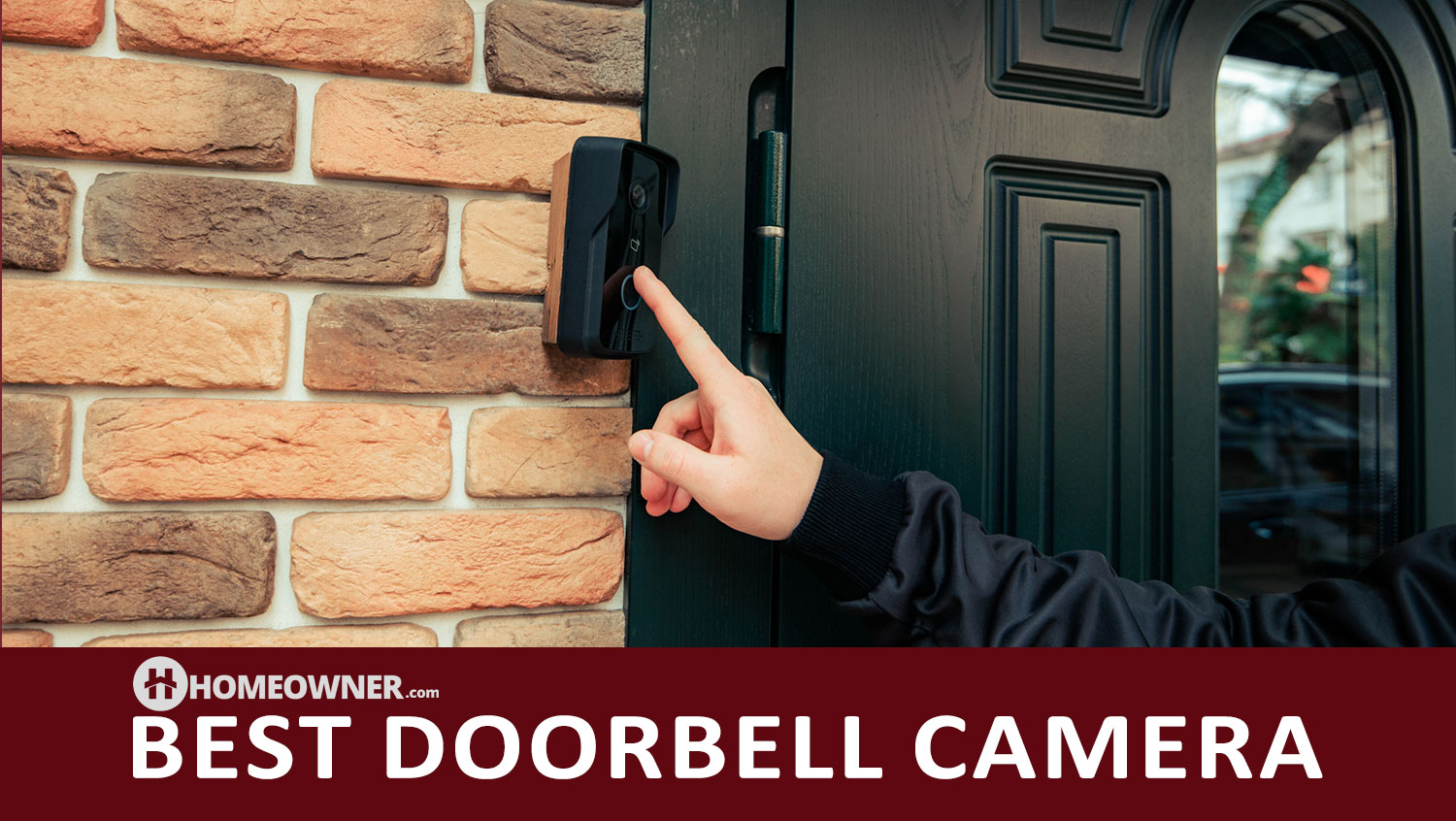 One of the more recent home security system components to make their way into homes across the nation is the doorbell camera. These smart devices record video and allow homeowners to see who's at their door in real time. With options like the Blink video doorbell, Ring video doorbell, and more, there are plenty of choices available for homeowners to find the best doorbell camera for their needs.
Best Doorbell Cameras in 2023
Ring Video Doorbell
Nest Video Doorbell
Blink Video Doorbell
Wyze Video Doorbell
Logitech Circle View Doorbell
Eufy Video Doorbell
Arlo Video Doorbell
Amcrest 4MP Doorbell Camera
Vivint Doorbell Camera Pro
Belkin Wemo Video Doorbell
SkyBell HD
Today's doorbell cameras capture HD video that streams to a connected app so that you can see who arrives at your home the moment it happens. You can check on packages, speak to delivery personnel, or let a visiting neighbor know that you'll be back soon. With video storage, two-way audio, night vision, and smart home connections, a doorbell camera can be an excellent addition to your home security system.
To find the best video doorbell for your needs, consider whether you prefer a wired or wireless connection, its video quality, how easy it is to connect to an app and your other devices, and its extra features, like motion detection and quick replies.
How Do Doorbell Cameras Work?
A doorbell camera combines the functions of a doorbell and home security camera by recording video and allowing homeowners to check the doorbell's video stream to see who's at their door. Many doorbell cameras also feature a two-way audio feature that allows homeowners to speak with a visitor via the video doorbell. This allows them to give instructions, like where to leave a package or to come back later.
When someone arrives at your home, video doorbells can alert you when they detect motion or when someone presses the doorbell button. The alerts travel wirelessly to your connected app, allowing you to view them in real-time, see video, and talk to your visitor. A smart doorbell camera can also store recorded video for you to view later, so you don't have to worry about missing anything important.
Some smart doorbell cameras also come with functions to call emergency services if you believe that an intruder is near your home or are the victim of theft. They can also connect to smart locks, allowing you to view who's at the door and unlock your locks and security system to let an approved person in.
Otherwise, expect a wireless doorbell camera to offer the primary function of a doorbell, which is to chime inside your home to alert you when someone is at your door. If you have connected speakers or cameras inside your home, a wireless doorbell camera may chime through them or your connected home security smart hub. You can also choose a wired doorbell camera that connects to your existing doorbell wiring to use your current chime.
Best Doorbell Cameras in 2023
One of our best home security tips for homeowners is to buy a video doorbell to go along with their home security system, complete with security camera setups inside and outside their homes. The addition of a smart doorbell with motion detection and high video quality can add another layer of protection and security.
The following are some of the best doorbell camera options on the market, listed in no particular order, to help you as you begin your search.
1. Ring Video Doorbell
The popular Ring video lineup includes several versions of video doorbells. The Ring Video Doorbell V2 features motion detection with real-time alerts, package notifications, visitor messages, 1080p HD video quality, and connection to other Ring devices. Versions 3 and 4 add new features, like customizable motion detection zones, automatic recording with sensed motion, and quick-release batteries for easy charging.
These wireless devices do not require a connection to your existing doorbell wiring. Instead, install the no-drill mount and attach the doorbell camera to start recording. However, you can hardwire your doorbell camera if you'd like.
Ring doorbells work with several other devices, including garage openers, smart locks, light switches, and smart thermostats. Users can also connect the Ring doorbell to Google Home and Amazon Alexa devices, like the Echo Show, to view video or control the camera from smart hubs.
Ring owners should consider signing up for Ring Protect for as little as $3.99/month to save and review all video recordings from their Ring video doorbell or Ring Video Doorbell Pro (wired or wireless versions). A Ring Pro subscription for $20/month gives you 24/7 professional monitoring, too.
2. Nest Video Doorbell
Nest doorbell cameras are made by Google, so they include Google's high-end technology focusing on security and convenience. The company offers two video doorbells, which were previously known as Nest Hello. The newer versions of the Google Nest doorbell include a battery-powered and a wired version. The battery-powered doorbell connects via the Google Home app, while the wired version requires the Nest app to work.
With either doorbell, homeowners can get 24/7 live streaming, a three-hour event history, two-way audio, and voice assistant compatibility with Google Assistant and Amazon Alexa devices.
Optionally, users can also subscribe to Nest Aware starting at $6 per month. The service allows continuous video recording, extra smart alerts for your connected devices, and the ability to save recorded highlights to review later.
3. Blink Video Doorbell
Blink is Amazon's other line of smart home security cameras, featuring indoor and outdoor cameras. The Blink video doorbell is designed to make it easier for homeowners to monitor the exteriors of their homes. Blink has several options for homeowners who want a video doorbell, allowing them to purchase the doorbell alone or pair it with other smart devices, like a Blink Mini or indoor and outdoor cameras.
A unique feature of the Blink system is its ability to save recordings locally using the Sync Module 2. This is ideal for users who prefer not to pay for a subscription service to backup video recordings, although Blink allows this, too, for $3 per month per device. View live footage and recordings using the Blink Home Monitor App, available on the Amazon Appstore, Apple App Store, and Google Play.
Blink video doorbells are available as wired or wireless and feature 1080 HD video, day or night.
4. Wyze Video Doorbell
Wyze video doorbells include the Wyze Video Doorbell and Wyze Video Doorbell Pro are small and simple but highly effective doorbell cameras that give homeowners peace of mind. The Wyze Video Doorbell is the company's smallest and most affordable option with 1080p HD video, two-way audio, and motion detection that triggers an eye-catching LED light. Get instant notifications to a device using the Wyze app to respond to visitors at your door.
Wyze Video Doorbell Pro includes a chime at no additional cost with several volume and chime combinations. This doorbell camera also features a broader viewing range to help users see more outside their homes.
Either doorbell can connect to Wyze Cam Plus, the Wyze video recording service with person detection, package detection, and advanced motion sensing alerts. The Wyze Cam Plus service is just $1.25 per month when billed annually.
5. Logitech Circle View Doorbell
Logitech offers the Logitech Circle View Doorbell, which is specifically designed for Apple HomeKit. This video doorbell features Apple HomeKit Secure Video, which connects the camera's footage to a user's device to view whenever and wherever they'd like. Simply use an iCloud account to record and store video for future review. This high-tech doorbell also comes with color night vision, a 4000k LED light for extra illumination in dark areas, and 1200x1600 HDR-enabled video.
Two-way audio lets users communicate with visitors as soon as they receive an alert. When connected with Apple HomeKit, alerts will even pop up on an iPad or Apple TV, ensuring that no important notifications get missed. Face recognition also identifies faces that homeowners tag in recordings, allowing more personalized notifications when a recognized visitor shows up.
The wired doorbell connects to an already installed doorbell chime, either with a DIY installation or professional help.
6. Eufy Video Doorbell
Eufy Video Doorbell lineup includes the Video Doorbell Dual, Video Doorbell 1080p, and Video Doorbell 2K, each of which has a wired and wireless version.
The Video Doorbell 1080p is the base model for Eufy video. It allows homeowners to use a Wi-Fi doorbell chime or an Amazon Alexa device as a chime. Otherwise, it offers basic video doorbell protection with body and face detection, HD video quality, and customized activity zones. Video Doorbell 2K adds onto the Video Doorbell 1080p with 2K resolution and more video storage capacity.
The Video Doorbell Dual is Eufy's best doorbell camera, using two-camera viewing to give homeowners package detection in addition to face and body detection. It also allows family member recognition and 16GB of storage using a Eufy HomeBase. Connect a Eufy Video Doorbell to other Eufy devices and its home security monitoring service that starts at $4.99/month.
7. Arlo Video Doorbell
The Arlo Video Doorbell is available in wired and wireless models, each offering 180-degree lens viewing, night vision, and connection to a smart hub. The wired video doorbell adds Arlo Foresight, a unique feature that helps homeowners see what happened to trigger an event alert on the doorbell. Motion range detection also extends farther on the wired model.
Arlo users can subscribe to an Arlo Secure plan to create custom activity zones showing their doorbells what areas they need to focus on for motion detection. Arlo Secure also stores video for 30 days and pulls up intelligent alerts that can connect homeowners quickly to emergency services when needed. Plans start at $2.99 per month for one camera or doorbell and range from $9.99-$14.99 per month for unlimited cameras or doorbells.
8. Amcrest 4MP Doorbell Camera
Amcrest has long been one of the top security device innovators offering some of the best video monitoring equipment to homeowners and businesses. The wired Amcrest 4MP Doorbell Camera has IP65 waterproof protection, night vision and motion detection up to 16 feet, two-way audio, and MicroSD storage up to 128 GB with a compatible card. Or, choose a cloud storage plan for up to 30 days of recordings starting at $6 per month.
Connect the camera to the Amcrest Smart Home app to view alerts on a compatible device. Homeowners can see who's at their door in real-time or get alerts when the doorbell picks up motion. The app is also where users can find their recorded video if they set up a storage plan or use a MicroSD storage card.
9. Vivint Doorbell Camera Pro
The Vivint Doorbell Camera Pro could be one of the best doorbell camera options for deterring potential intruders or package thieves before they cause harm. This doorbell detects potential thieves in action using its artificial intelligence technology. Then, it sounds an alarm and triggers a bright, LED light to alert them to the camera's recording. A 180-degree video view also helps homeowners see their full entrance area when they view live footage or recordings.
The Vivint Doorbell Camera Pro is wireless and can connect to Google Home or Amazon Alexa devices. Using the built-in SD card, this video doorbell records video 24/7 or when it detects an event outside a home, based on the user's settings.
Speak with a Vivint representative to request a professional installation of its doorbell camera or build a custom home security system.
10. Belkin Wemo Video Doorbell
The Belkin Wemo Smart Video Doorbell works exclusively with Apple HomeKit to record and store the doorbell's video seamlessly. This doorbell camera has an extensive view range that stretches 223 degrees, allowing homeowners to get a full view of what's outside their doors.
Enhanced night vision clears and brightens up pictures for nighttime viewing, and an HD camera with 1200x1600 HDR-enabled video offers superior pictures during the day. The wired system comes with power connectors and everything else necessary to connect it to existing doorbell wiring.
11. SkyBell HD
At first glance, the SkyBell HD doorbell camera sets itself apart from others in its rounded design, reminiscent of a smart lock. However, it has a few other key features that also allow it to stand out, including setting up alerts to stream to multiple users on different devices and a free replacement from SkyBell if the doorbell camera gets stolen.
This best doorbell camera option includes IPX4 weatherproofing, a 180-degree field of view, 1080p resolution with HD video capability, two-way audio, and night vision. SkyBell HD also records video for seven days, saving them free of charge in its cloud system. This camera connects via existing wires to your doorbell chime.
What To Look for in a Doorbell Camera
Which doorbell camera is right for you? Here are a few things to consider when shopping for a smart doorbell.
Installation Type
Doorbell cameras can be wired, meaning that they connect to your existing doorbell wiring to chime through a current doorbell chime. Or, they can connect wirelessly using wi-fi to Google Home, Apple HomeKit, Amazon Alexa, or other smart home hubs to chime through connected devices, like an Amazon Echo. Wireless setups are generally best for homeowners who don't care to connect through their existing wiring and want a quick and simple setup.
Video Quality
Also known as resolution, video quality refers to the doorbell camera's visual capabilities. Some cameras have different video qualities with live streams than they do with video recordings. 1080p is the standard quality to look for in modern doorbell cameras for clearer, crisper imagery.
Connectivity
The best doorbell camera options typically connect to other devices you may already use, like a Google Nest Hub or an Amazon Echo. This home connectivity is vital to keep smart homes operating as needed. Connecting a video doorbell to these hubs allows users to control it and other devices from the same app easily.
Homeowners should also determine whether their video doorbell connects to an app and what kind of functions that app has. For example, does it allow live viewing, recording reviews, alerts, and two-way audio?
Extra Features
Other features to consider on a doorbell camera include motion detection, quick replies for visitors to leave messages when a doorbell goes unanswered, and night vision for clear nighttime viewing.
Benefits of a Doorbell Camera
A doorbell camera offers much more functionality than a traditional doorbell. Homeowners can check who's at their door without needing to answer it and without needing to be at home. They can also use their video doorbell to monitor packages on their porches, speak with visitors, and detect nighttime motion from animals and people.
Doorbell cameras can become a beneficial part of a home security system. Many models connect to smart home hubs, like Amazon Alexa, Google Home, and Apple HomeKit, to bring devices together and give homeowners control over several devices at once. Use the video doorbell with other indoor and outdoor cameras for an extra layer of home security protection, day or night.
Consider adding a video doorbell to your home security system by finding the best doorbell camera for your needs. Our options above include several of the most popular models with high-quality video and helpful features for individuals and families.
Related Content